Complete solution for housing with
Smart homes features
We've connected all Smart home features like electronic locks, alarms, heating, media, lighting and a wide variety of others in a single interface. You control your entire home easily and quickly with an app or remote control no matter how many features you have – whether you are at home or elsewhere. Install EliotStart and then just add the features you need.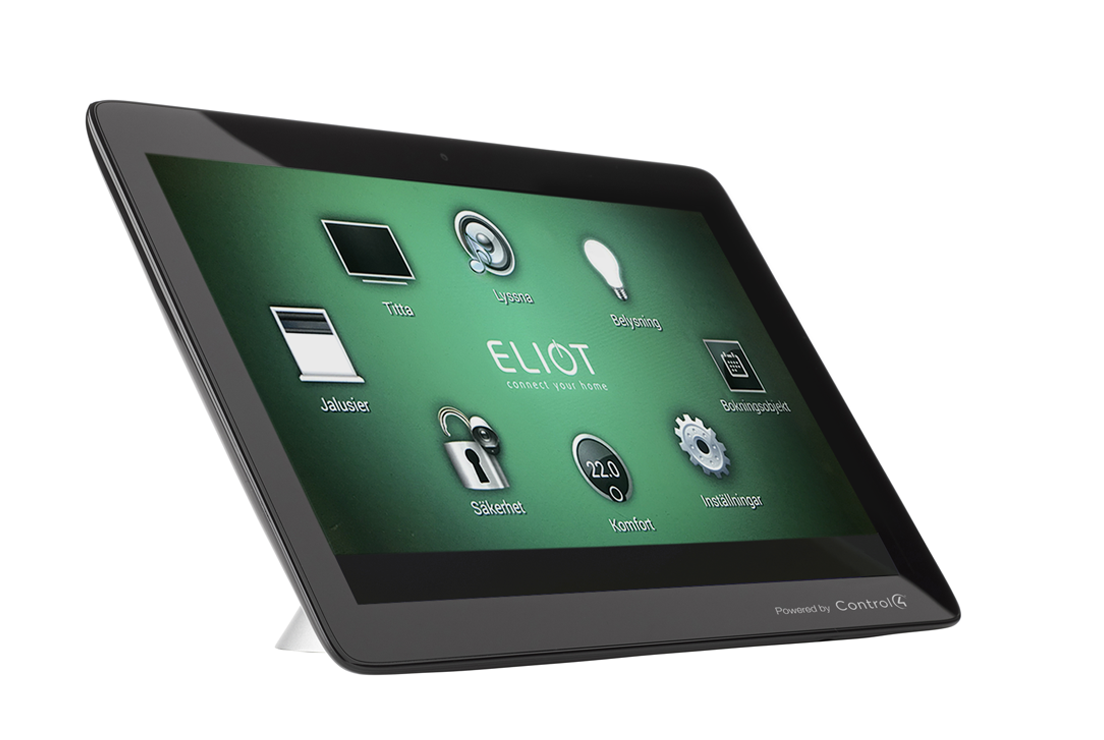 EliotStart is the core package which you can then modify based on your own needs by simply adding features from EliotSmarter.
EliotStart core package contains:
Processor
User view – A user friendly interface
Remote control
Elektronic door lock
Network – Assurance of function
EliotSmarter – optional features
Music lover or movie enthusiast? Are you a parent, careerist, or a senior in need of a simpler way to do the things you used to do yourself? The Eliot system offers either complete package solutions or lets you pick the features you want in your own home.
Integrated burglary alarm & fire alarm
Turn off the lights when setting the alarm (requires controlled lighting), turn on "Welcome home" scene when turning the alarm off. Get notifications when the alarm is turned on or off (requires 4sight). Complete the package with one or several cameras.
Sound in multiple rooms
Play your favorite music in one or several rooms. Why not have your morning radio on in the bathroom? Or your favorite music in the kitchen with your breakfast?
Central image distribution
Store your image gallery centrally and view it in any room you like. Start the movie in the living room and finish it in the bedroom, view your Apple-TV in any room you choose. Do you need one TV box for your TV, or several?
Controlled lighting
Control all the lighting in your home and have the opportunity to create unique light scenes. Have you ever asked yourself: "Did I turn the lights off when I left"? Arrange a cosy illumination for your movienight or party, and turn off the lights in other parts of your home. Or why not create a "Welcome home scene" in the hallway?
Dark blinds/Sunblocking
Dark blinds in the bedroom and sunblocking in the kitchen or living room? Decide for yourself, all according to your own needs.
Skylight
Control the skylight with the touch of a button no matter where you are.
Eliot supports integration from these manufacturers and more:
Eliot has support for all the gadgets you want connected
Don´t hesitate to contact us if you want to know more about Eliot, our services and products!